With social media now ubiquitous in the digital marketing strategies of brands in all sectors, there is no reason for non-profits to be any different. To build awareness, increase donations, and encourage new volunteers to get involved, incorporating digital marketing into their strategies is key. And the success shows: in a 2017 survey from Tech Trust, all the charities that raised over 20% of their funds online were active on social media. In 2018, follower growth on Instagram and initiatives like Facebook's Birthday Fundraiser, which allows people to use their birthday to raise money for a non-profit, mean that social platforms could play an even bigger part in fundraising.
These are just four examples of non-profits whose social media marketing stands out.
1. Oxfam GB – Influencer marketing and video
It's hard to deny how far influencer marketing has come over the last few years: brands from all industries are collaborating with big names – from celebrities to micro-influencers – to reach their audience. Oxfam GB made full use of this strategy in their "Give a Shift" campaign earlier this year, which aimed to encourage people to dedicate just a few hours of their time to working in their local Oxfam shop. By pairing up with celebrities such as Harry Hill, Aisling Bea, and Vicky Pattison, who documented their shifts and reasons for participating in light-hearted videos, Oxfam created content that was both engaging and entertaining.
2. Macmillan Cancer Support – User-generated content
User-generated content has long been a successful way for brands to boost interaction and build up communities on their channels. When it comes to charities, the inspirational nature of this type of content shouldn't be underestimated: real-life experiences and achievements provide a source of inspiration to all those looking to them for support. The Macmillan Cancer Support page is flooded with content created by their followers and supporters. One of my favourite examples is their #LifeWithCancer campaign, a poignant look at those moments in which users take part in "every-day" or extraordinary activities, turning the spotlight away from their illness and onto life.
3. Wateraid – Chatbot
While chatbots are often used in customer service, Wateraid used theirs to build awareness about their "Untapped" winter campaign in Tombohuaun in Sierra Leone. By complementing their social media posts with a Facebook chatbot, the charity offered a much more interactive form of learning. Users got an inside look at life in the village by chatting with Sellu, a resident of the village, who offered information in the form of text, photos, and videos, with a range of choices to enable users to learn more about what interested them.
As part of this campaign, Wateraid also provided the villagers with cameras which they used to film parts of their daily life and show us what's truly important from their perspective. These then became Instagram Stories.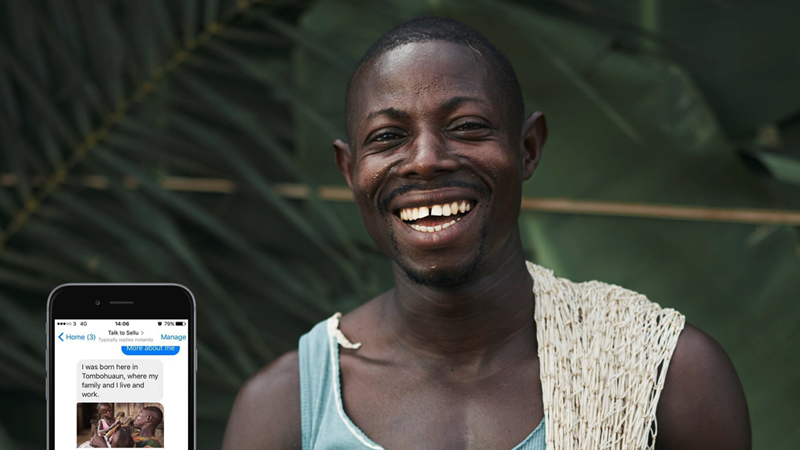 4. Woodland Trust – Instagram
With its over 800 million monthly active users and huge engagement, Instagram is a fantastic platform for charities to build awareness about their cause. One of my favourite examples of charity social media marketing on this channel comes from the Woodland Trust, who campaign to protect and restore woodlands in the UK. As well as the striking photos of the animal and plant life found across the UK, they also add educational copy with facts and interesting information about the subject. Unsurprisingly, these images generate a high level of engagement, building awareness of the charity's work.
What do you think? Which other examples of charity marketing have caught your eye?